Wheelbarrow Buyers Guide

Choose the Perfect Wheelbarrow

Exciting News!

All the articles on this website are moving!  Frill Free is the new home of all the gardening and chicken topics.  Make sure you sign up to the newsletter and don't miss any announcements.

Jacki Cammidge is a participant in the Amazon Services LLC Associates Program, an affiliate advertising program designed to provide a means for sites to earn advertising fees by advertising and linking to amazon.com. Other links on this site may lead to other affiliates that I'm involved with, at no extra cost to you.
There are tons of different wheelbarrows, with many different designs.  You would be surprised at how many - how do you choose the right one for you?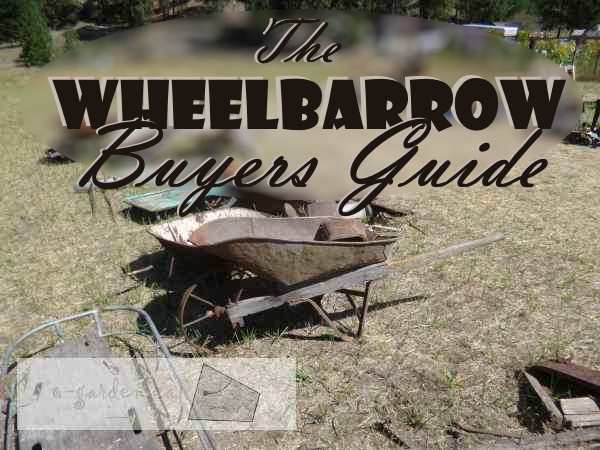 Wheelbarrows have been around for donkeys years, and fill many needs, from hauling manure from the stable to the compost bin, to mixing concrete mortar on building sites. I use one to sift compost into, with a screen that sits over it.

All of the different permutations may look similar, but the slight alterations in dimension and size, not to mention weight, make them perfect, or not so perfect, for a particular task.
Flatter and shallower wheelbarrows sold as homeowner types are good for general use - a few twigs or grass clippings are all it will hold. 
Deeper ones are designed to hold concrete to transport it, so they are much more sturdy to carry the weight.
The height of the sides makes it possible to really load it up with wet or sloppy materials, but the trade off is that it makes it a lot more top heavy and hard to handle.

If you're lucky enough to be able to purchase a new wheelbarrow, and you know what it will most likely be used for, here are a few things to look for;

Steel construction is much more durable than plastic or aluminum. 
What you give up in weight will add more maneuverability.
Size matters; heavy when empty means that if you load it up with heavy materials like compost or manure, it will be extremely hard to move.
The construction of the wheelbarrow reflects the quality; flimsy and poorly made tools will be horrible to use; buy the best quality you can afford and make it last a lot longer.
The shape of a wheelbarrow is what makes the construction wheelbarrow a bad choice for gardening; steep sides and a narrow box are great for transporting concrete, not so good for loading with garden mulch or waste. The height of a construction wheelbarrow makes it really tippy.
For a gardening wheelbarrow, look for one with an inflatable tire, not a solid one, and a wider box.  This will make it easier to push on uneven ground.
What Other Visitors Have Said
Click below to see contributions from other visitors to this page...

Wheelbarrow Dimensions
I use a wheelbarrow pretty much every single day in my garden. The best type for me is one with a low wheelbase, and one wheel in front, in the typical …